We want to remind our students and families that Monday, March 13 will be a regular day of school. Originally, this day was planned as a teacher professional development day. However, we are now using it to make up for a recent snow day.

Good evening WUSD Families, This evenings snow totals continue to be heavy as predicted, WUSD is going to plan for a 2 hour AM delay tomorrow, March 10th. Morning bus pick up will be two hours later than normal. AM 4K will be cancelled. PM 4K will run as scheduled. Dr. Caroline Pate-Hefty Superintendent

Spring Picture Day for Lincoln is on Tuesday, March 7th. Please order at mylifetouch.com using the following information:
The Lincoln Elementary Read-A-Thon Fundraiser is in full swing and will finish on March 17th! Students are able to earn money towards Lincoln's upcoming book fair that begins on March 20th just by logging their reading minutes! Family and Friends can donate to help support Lincoln Elementary! If you would like to see how Lincoln is doing on reading and/or donate to our school - please visit our Read-A-Thon page by clicking this link
https://www.read-a-thon.com/school/Lincoln-Elementary_53123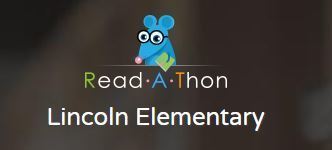 CHANGE TO ACADEMIC CALENDAR: The WUSD School Board approved modifying the current academic calendar to make Monday, March 13, a regular day of school for students.  The day was originally planned as a teacher professional development day, but will now be used to make up for last week's snow day. This will prevent us from needing to add another day to the end of the school year in June. We appreciate the understanding and flexibility of our families as we make this change.

REMINDER: No School tomorrow, Friday, February 24, for teacher professional development. We'll see our students again on Monday!

Due to the current road conditions Whitewater Unified Schools will be closed for today, Thursday, February 23, 2023. The road crews have done great work in the city, however, this morning many county roads were still very slick for buses. We will work to reschedule parent/teacher conferences and update families with this plan soon. Best, Dr. Caroline Pate-Hefty

REMINDER: Elementary & Middle School Parent/Teacher Conferences are tomorrow, Thursday, February 23 from 1:00 to 7:30pm! Dismissal Times: ➡️Elementary @12:00pm (no 4K) ➡️Middle School @12:30pm Lunch will be served prior to dismissal. High school students will have a full day of school on Thursday.

Whitewater Unified School District will be closed on Wednesday, February 22, 2023 due to an Ice Storm Warning that goes into effect early Wednesday morning. The storm is predicted to include significant icing with accumulations of a quarter to one half of an inch and winds gusting as high as 40 mph, throughout the day Wednesday. All after-school activities for Wednesday are also canceled. Dr. Caroline Pate-Hefty Superintendent

REMINDER: Elementary & Middle School Parent/Teacher Conferences are tonight from 4:00 to 7:30pm! Our teachers look forward to discussing students' progress and goals with our families.

Whitewater Unified School District will be closed on Thursday, February 16, 2023 due to predictions of snow and strong winds that will make travel for our students and staff dangerous, throughout the day Thursday. All after-school activities for Thursday are also canceled.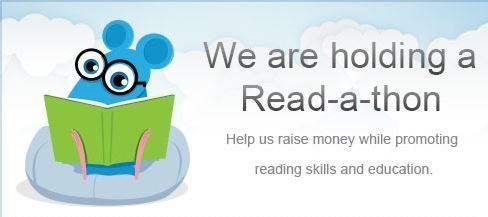 Order your yearbook today!
Whitewater Whippets 22nd Annual Youth Night!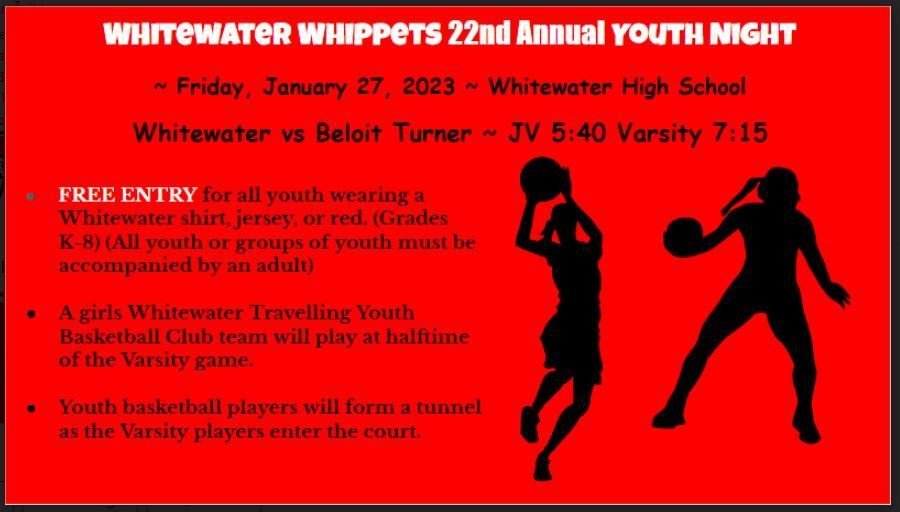 Download the WUSD mobile app today! On the app, students, parents, and community members can read the latest announcements, locate staff information, review upcoming events, and find important documents. The Whitewater app is available to download free from the Apple App Store or the Google Play store by searching for "Whitewater Unified Schools." Click the following link for an introduction video on the app:
https://youtu.be/NZXAlONRMek

Preliminary election results indicate that voters have approved the operational referendum question for the Whitewater Unified School District. As a result, we will be able to maintain: ➡️Robust academic and athletic opportunities ➡️Student support and mental health services ➡️Comprehensive instructional and co-curricular programs ➡️Technology and facilities infrastructure We are incredibly appreciative of the input and feedback we received throughout this process. Thanks to your engagement, we were able to present a solution that made sense for our entire community. The canvass will be held on Friday, November 11, to certify the results. As always, thank you for your support of WUSD schools and the students we serve!

Tonight, the Whippets host McFarland for our annual homecoming football game! Kickoff is at 7 p.m. 🏈 We look forward to welcoming our alumni, fans, and community for this annual tradition. Let's go WHS!
Summer School Playhouse presents Willy Wonka and the Chocolate Factory, July 7-9th at WHS Auditorium. Tickets are $8 for adults and $5 for students. Call 262-472-8178.